Thursday, January 31st, 2008
Noah, of KC Bike Commuting, rose to my challenge to design a sticker saying "Warning: Do not lick bicycle," per our previous conversations about the matter here. You can see Noah's post about his design, although I'm including it here for the fun of it.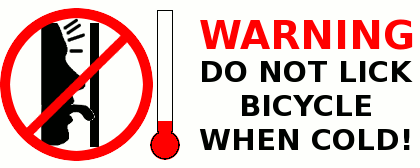 UPDATE: I meant to post a link to a semi-relevant article, "Indiana Boys Left With Bleeding Tongues After Licking Flagpole" when I first wrote this. I forgot. Choice quote: "I decided to try it because I thought all of the TV shows were lies, but turns out I was wrong." These boys remind me of many, many people at my high school. Gotta love Indiana …

Anyway, I had promised a print of one of my photos in return; Noah chose this one.
I had already dropped it off at my local camera shop, Cord Camera & Video. Yesterday I went to pick up the 8″x10″ print, by bicycle. I rode from my apartment to the camera shop, leaving my bicycle within sight in front of the store. I didn't bother locking it. Then, I rode to the post office to mail it — again leaving the bicycle in front, unlocked. There was no line for either the walk-up windows or the APC, so I chose the APC. After I finished that, I rode to our apartment office to pick up a package there. I returned home having ridden probably about one mile total.
I have lived in bigger cities, and at least based on my experiences, there's no way I could have run all these errands in such a short distance. And I certainly wouldn't have left my bike unlocked, even if I could see it the whole time. These are some of the advantages of small town living, at least in this particular town, with my apartment located where it is. I'm very lucky. Even on a bicycle, I can be at any of these places within a 15-minute ride: work, downtown, the library, the mall and other shopping centers, any number of excellent restaurants, coffee shops, etc. Or, in that same 15-minute ride, I can be out in the country. It's fantastic.
The more I think about it, the more I think it's a shame I don't run more errands by bicycle. It's fun and very doable around here.
Anyway, my commute this morning was pleasant, in the 20s. Windchills were in the teens, but it wasn't bad at all. Tomorrow's commute should be interesting, as we have a winter storm warning predicting 2-5 inches of snow/sleet accumulation tonight. One downside to this town is that they do a pretty crummy job of clearing the roads, although they have gotten a bit better about it in recent years. I'd be surprised if schools are in session tomorrow — once when I was in school, they closed schools in anticipation of snow. Weak.
Here's the text of our storm warning. I'm sure the alarmist tone will amuse those in colder areas of the country.
…WINTER STORM WARNING IN EFFECT FROM 7 PM THIS EVENING TO 7 PM EST FRIDAY…
THE NATIONAL WEATHER SERVICE IN INDIANAPOLIS HAS ISSUED A WINTER STORM WARNING…WHICH IS IN EFFECT FROM 7 PM THIS EVENING TO 7 PM EST FRIDAY. THE WINTER STORM WATCH IS NO LONGER IN EFFECT.
A MIXTURE OF SNOW AND SLEET WILL DEVELOP THROUGH MIDNIGHT TONIGHT. AFTER MIDNIGHT…A MIXTURE OF SLEET AND FREEZING RAIN WILL OCCUR. ICE ACCUMULATIONS OF ONE QUARTER TO ON HALF INCH WILL BE POSSIBLE ALONG AND SOUTHEAST OF A VINCENNES TO BLOOMINGTON TO SHELBYVILLE LINE. A MIXTURE OF RAIN…FREEZING RAIN AND SLEET WILL GRADUALLY CHANGE BACK TO SNOW FRIDAY AFTERNOON. TOTAL SNOW AND SLEET ACCUMULATIONS OF 2 TO 5 INCHES WILL BE POSSIBLE.
A WINTER STORM WARNING MEANS SIGNIFICANT AMOUNTS OF SNOW… SLEET… AND ICE ARE EXPECTED OR OCCURRING. STRONG WINDS ARE ALSO POSSIBLE. THIS WILL MAKE TRAVEL VERY HAZARDOUS OR IMPOSSIBLE.